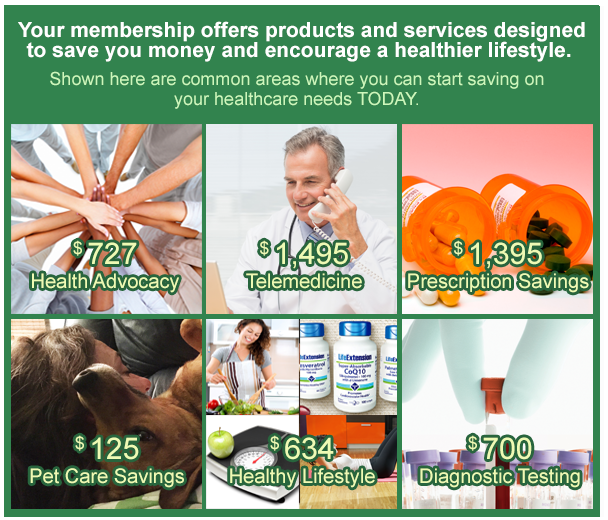 Enjoy over $5,000 in potential member annual savings!
WPA membership is NOT a Health Insurance Policy nor does it replace any health insurance policy. WPA is also NOT a Qualified Health Plan under the Affordable Care Act. WPA complements existing insurance or may be used on its own to help its members live well and reduce their overall healthcare expenses.
Total Member Savings & Counting
Member Satisfaction Rating
Wellness Advisor Consults
Average Member Savings on Medications
Kevin M Kirbas
How can you know if these products really make a difference? This inevitable question is why [...]
Kevin M Kirbas
We understand groups and employers have different needs and desires for their members and employees. Some [...]
Kevin M Kirbas
Groups, associations and other affinities know the advantages of maintaining continuity with their brand that protects [...]
"was very helpful she called me yesterday and told me what I needed to do, and she would call me back. She did exactly that and had all the information I needed and helped setting the appointment that made every thing so much easier. Being new she made it easier."
"I appreciate the time they spend helping to understand the program. I am grateful for the help in getting my meds at a reduced cost. "
"was very professional and answered all my questions. It was pleasure to work with her"
"was very excellent and went above and beyond to assist me and even called me back after my appointment to make sure everything went well and gave me advise too. It's rare you find employees like Christine that actually cares about the customer. Thank you SOO Much!!!"
"They answered my question precisely and I walked away knowing what to do next. They were very helpful and so far I am pleased."
"It was a long process, because of the drug company but did get my meds!!" WOULD recommend the business to a friend, family member, neighbor or colleague.
"Excellent service." WOULD recommend the business to a friend, family member, neighbor or colleague.
"My experience with today's call had finally been satisfied. Mrs. V. adequately answered my questions and uncertainties I had for awhile. She was very professional, patient, and articulate with today's call. She made my understanding clear and less stressful. With her kind of customer service I would recommend Wellness Plan of America any day. Very good in problem solving and didn't pass ** on the next person. Well done. "
"was patient, very clear, and explained in detail all the answers to my many many questions. I feel confident that I now understand the maze of my prescription plan. "
"The Wellness Plan of America helped me secure two medications, that I had to have, at little costs. The customer service concierge' were always friendly and helpful. Adam, was especially helpful. He was persistent and detailed. I have MS and tend to get frustrated easily. Adam worked with me and is responsible for getting my Copaxone and Lyrica. They have other services that are very beneficial. I finally got my Medicare and another Part B insurance so I did not need to stay with WPA. Otherwise II would have kept their services. If your someone concerned about your health. need medications, need nutritional support, and you can't afford health insurance, this would be a great program for you. "

Wellness Plan of America is a comprehensive membership designed to address your everyday health and wellness needs. This program was created to assist our members in making the necessary lifestyle changes critical to long term health through free ongoing services in addition to member's only savings on wellness benefits.
Personal Wellness Advisors

Prescription Savings Program

Online Wellness Assessment

Healthy Food Pantry

Weight Loss & Conditioning Program

Workout Videos

Life Extension® Partnership

And more…
Need more info?
We're here to help.
Call today: 855.700.WELL (9355)